Atlanta Scanning and Records
Do you need help converting your records and documents to a digital format? At Atlanta Scanning and Records, we offer affordable, high-quality document scanning and other business solutions for all of your conversion and storage needs and project sizes.
Contact Atlanta Scanning and Records if you need help with document scanning and digitization, records storage, hard drive destruction, or paper shredding.
Atlanta Scanning & Records
At Atlanta Scanning and Records, we provide secure document scanning and storage services throughout the greater Atlanta area.
Atlanta Scanning and Records' has a highly skilled staff and local facilities that offer competitive pricing and easy access to all your documents.
No matter the size of your job, we are confident we can provide you the necessary services to complete your project. By choosing Atlanta Scanning and Records to do your document scanning, you can rest easy knowing your service will be completed quickly and within budget.
Companies who make the paperless conversion to digital formats are better able to find the right information at the right time—increasing an employee's work-efficiency, productivity, and decision making.
Whether it's digital scanning and conversion services for office documents, medical files, microfilm/microfiche strips, or architectural and engineering Atlanta Scanning and Records is here to help!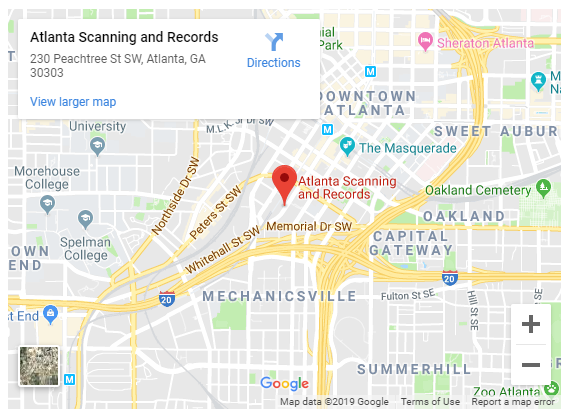 Get Free Quotes on Scanning and Storage Services in Atlanta
Document Management Services in Atlanta